IE Magazines are monthly PDF compilations of both free and premium IE Articles with Mindmaps (Current affairs).
Why IE Articles?
IE Articles are like NCERTs of key current affairs issues.
It will give you a strong foundation of key current affairs topics through big-picture analysis.
They are prepared by analyzing at least 3-4 years of news from major news sources like The Hindu, Indian Express, Yojana, etc. It is because UPSC no longer asks questions from last one-year news only (see 2018 & 2019 paper) + it requires candidates to have in-depth knowledge of important issues. So IE article is an initiative to satisfy this demand of UPSC.
Relevant links to static syllabus mindmaps are also provided for integrated learning.
Whenever there is an update to a particular issue, we don't write an entirely new article with different words. Instead, we re-publish the existing ones with additional notes so that it would easier for you to understand and revise those issues better.
It will be useful to solve analytical/in-depth questions in Prelims (see 2019 question paper).
It will be useful to solve almost all questions in Mains (Essay and General Studies).
It will be useful for writing excellent answers in mains (essay & GS).
Articles are written in a notes based format with question-answer based arrangement = you can easily recall concepts in the exam/interview.
Mindmaps are provided for easy understanding and faster revision before the exam.
So regular reading and revising IE articles would be a game-changer in your UPSC preparation journey.
Did you know?
You could answer 120+ marks worth of questions in UPSC Prelims 2019 with the help of IE Articles & IE Mindmaps – Learn More.
Around 100 Marks worth of 2018 UPSC Mains GS questions (current affairs) could be answered with just August and September 2018 months IE articles (free & premium) – Click here to know more.
How to Download?
With Gold (6 Months), Platinum (12 Months) & Platinum Plus Membership, you can download all the previous months and coming months magazines in this same page until the membership expiry + you can also access all IE Mindmaps (Static syllabus covered).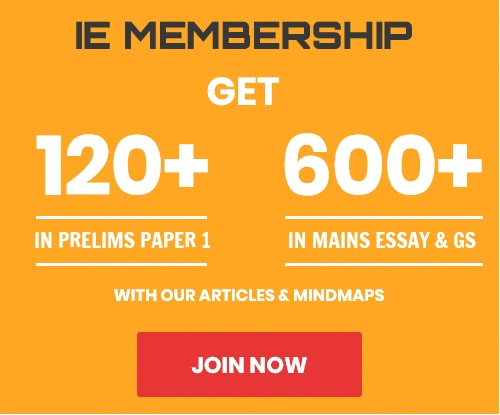 Testimonials
Download Sample
Download the November 2018 Magazine below as a sample. All the other magazines are visible for Gold, Platinum & Platinum Plus members only.