About IE Mindmaps

IE Mindmaps are the mindmaps that cover Current Affairs and the static syllabus of all the subjects – Polity, History, Geography, Culture, Economy, Environment & International relations. Mindmaps are made through the reference from both standard and advanced books and internet for additional analysis. Read the article – How to remember everything you learn? to get an idea about Mind Maps and other memory techniques.

Note: IE Mindmaps are not only for UPSC exam but also for any competitive or school or college exams which have these subjects – Polity, History, Geography, Culture, Economy, Environment & International relations.
How it will benefit you?
Big picture – You can take in the bigger picture quickly and easily at a glance.
Better recollection – The visual nature of mindmaps allows for easy recall.
Simplification – Mindmaps allow for the simplification of complex relationships between topics.
Quick revision – Every point is organized and linked in a way that enables quick revision.
Creativity – Your creativity will get boosted as you can get big-picture easily with mind maps.
Interactive – IE Mindmap is interactive i.e., you can collapse, expand, navigate around and search for particular topic inside the mindmap. It is not possible in image or PDF mindmaps. You can read it with any device (Mobile/Tablet/PC). No software is needed.
Updated – Unlike pdf/image mind maps, IE Mind maps will be periodically updated by us according to the changing needs of the exam.
Question paper-based – Contents in the mind maps were prepared based on solving previous years question papers (both prelims and mains) = high chance of success in the examination.
Crack GS (Prelims & Mains) – General Studies section of the exam could be easily cleared with IE Mindmaps. Around 85-90% of UPSC Prelims Paper 1 static questions could be solved with IE Mindmaps.
Is it free?

IE Mindmaps are premium content available for members. Some Mindmaps with suffix [FREE] are free which you can open as samples. With membership, you can access all Static Mindmaps as well as Current articles (with mindmaps) for integrated preparation.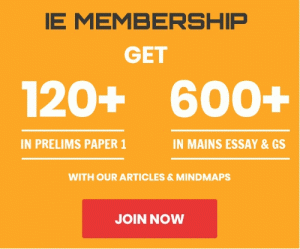 Testimonials by our Members
Update Log

1.06.2019 - Indian Polity

27.05.2019 - MISC

26.05.2019 - Culture

25.05.2019 - MISC

13.05.2019 - Indian Polity
---
Static Mindmaps (Prelims & Mains)
---
Current Affairs Mindmaps
500+ most-probable current affairs topics (2018-19) covered.
You need to read it along with IE Articles to cover entire topics.
Useful for both prelims (tough/analytical questions) and mains (most questions).
Click here for Monthly PDF compilations for offline reading.
---
Don't Miss Out Any Post!